Last December, we proudly celebrated 15 years of Cybertrading - an era in which our company has gone through a remarkable journey. From a start-up to an established medium-sized company, we have had to overcome numerous challenges and have been rewarded with steady growth. So let's take our anniversary as an opportunity to travel back in time through the history of Cybertrading. How did it all start? What has changed over the years?
The employee with the longest tenure, Stefan Grünheid, our Head of Sales has been working at Cybertrading GmbH for 13 years. At that time, he came across the then start-up in the traditional way via a job advertisement. Right from the start, he was impressed by the future-proof nature of the business field, which is why he decided to apply.
More than 10 years ago, the company slogan was "We buy new and used Cisco hardware". Today, Cybertrading offers plenty of well-known manufacturers and in this respect already adapted the slogan to "Let's Live IT" in 2015. During a cozy get together in our coffee bar, Stefan shared more details about the changes in 13 years of Cybertrading.
How does it feel for you to see how the small start - up has developed over the years?
"Yes, you really have to say that the growth in the 13 years was enormous. From 3 employees and the boss to almost 100 employees. At the very beginning the boss told me: 'If we're a 10-person company like that at some point, that's enough.' But through the ambition to always and constantly improve and move forward, we have been able to build up many business areas, to keep growing and to achieve good results. We were already trading internationally at that time - not yet worldwide, but Europe-wide. The trend has always been uphill all these years."
Today we have our own building complex, but where did your journey start back then? How was the set up from the premises?
"When I joined the team, we were still located in Magdeburg, more precisely in a 4-room apartment near Magdeburg Cathedral. I shared an office there with our boss. I was there for just under 1½ years until we moved on to the IGZ Barleben. It was significantly larger - instead of 2, there were now 4 offices. These were also designed for 4 to 5 people. We finally had more space and also a room that was dedicated just storage and technology."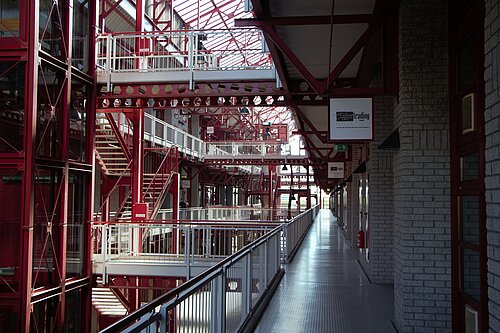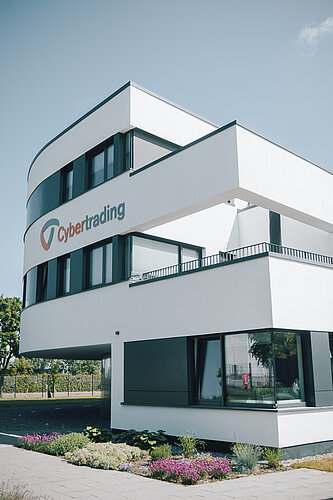 The warehousing and technology area has grown particularly strong because of increasing sales. What do you see as the biggest changes?
"Especially in size - from a small 12m² room to our soon to be 2nd finished warehouse. When I started, a technician also performed logistical work at the same time. That means you sat down in the morning, unpacked the stuff, then sat down at the computer and tested the products, then put them back into the shipping process. Everyone was simply an all-rounder, regardless of the department in which they worked at. So, there were no real departments, no team leaders or department heads. The departments only developed when we got bigger. It wasn't until we had just over 10 employees that we started hiring the first logistics specialists."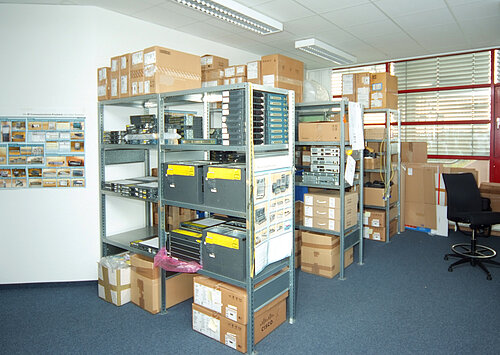 But with the recruitment of new employees, you gradually needed more office space again, didn't you? What happened next in the IGZ?
"In fact, it wasvery modular at the IGZ and we were able to rent more space little by little. Especially with the formation of departments, such as marketing, the development of online channels and the expansion of the end customer area, the number of employees grew rapidly."
How was your office space equipped there? Were you able to keep up with the standards?
"The offices were already well equipped - I would say always up to date. Everyone always had the tools they needed to work with. In my case, I already received a work cell phone at that time. Apart from that, each department already had 2 monitors to work on and a desktop computer. We now have company standards, which means that every department has roughly the same equipment. Most departments now work with 3 monitors and practical laptops. Comfort also increased - ergonomic chairs, height-adjustable desks, the air conditioning or even the integrated Bluetooth music systems in each office make working much more pleasant. The equipment develops gradually, and each employee can bring ideas for improvement, which are then implemented after approval."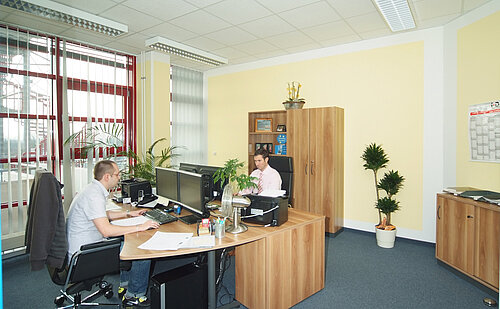 Speaking of expressing ideas and discussing implementation possibilities, did you have meeting rooms at the time?
"In fact, there were no conference rooms in the beginning. We had a very large entrance area in the IGZ, equipped with a comfortable couch and armchairs. We used this as a large conference room and held various meetings. Although there were large meetings with 10 employees, however, rather rarely. It wasn't until we had conquered the second corridor side in the IGZ that there was then a proper conference room with beamer and screen. Still, that's no comparison to today's equipment. Several conference rooms in different styles, with large video boards, make for pleasant meetings. And if you're looking for something a little cozier, our small coffee bar is also a great place to be - just like today."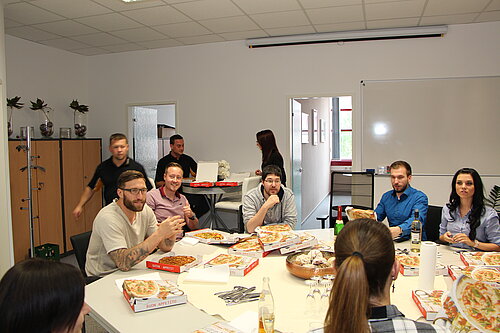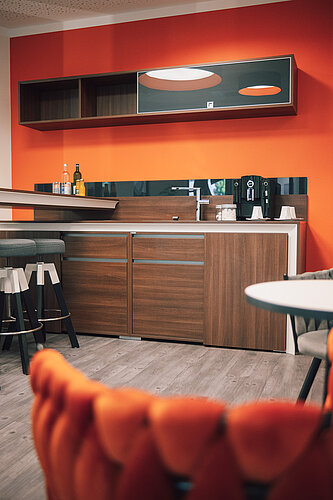 What did you find best when Cybertrading was a start-up and what are you most grateful for today?
"The biggest change over the years is professionalization and standardization. Today we can do the work independently. But the start-up character at that time also offered absolute advantages. Back then, we had short decision-making paths and processes, whereas standards slow down the processes somewhat today. But without structures, we couldn't serve the masses the way we do now.
Both have their advantages and disadvantages. The dynamic is a lot of fun, but also incredibly demanding. Everyone had to acquire a lot of knowledge independently because there was a lack of specialists in many areas. The increase in the number of employees solved the problem. However, the increase in the number of employees, standardization, the increase in home offices, and also corona, make it more difficult to get to know new colleagues personally."
Home office hasn't been around that long either, but it's one of the most popular benefits. What benefits were a hit in the early days and how does it look like today?
"The topic of benefits has really only gained momentum in recent years. At that time, there wasn't much focus on it at all. No one came and asked whether they could work 30 hours or 35 hours. So in a start-up, you assume that people are happy and everyone just pulls together to get ahead. Nevertheless, the individuality and flexible working hours used to be a kind of benefit at Cybertrading. In addition, back then we had the tradition of getting together on Fridays and, for example, eating ice cream together or something. Of course, that was easier to do for 10 employees than it is today with 100.
Today, I think we have a colorful bouquet of benefits that is constantly expanding. Of course, this is also due to the fact that we have to compete with larger companies. What I see as the biggest benefit, especially for our administration, is the home office. Cybertrading provides all employees in the administration area with comprehensive home office equipment. In fact, I often hear among my friends and acquaintances that companies offer home office but do not provide any equipment at all. We believe that everyone in the home office and office should have the same technical equipment in order to be able to work reasonably. In addition to the home office, I would say that the flexibility of working hours is particularly well received. This also gives me the opportunity to attend appointments outside core working hours. The highlight is that we even have a colleague in the team who only looks after all our well-being. That is certainly an absolute rarity. I think Cybertrading has a lot to offer as an employer and continues to improve in that regard."
Finally, what do you wish for Cybertrading's future?
"My wish for the future is that we continue to grow healthily, always breaking new ground and never losing sight of the employees. I hope that many other colleagues will also find fulfilment in what they do here at Cybertrading."