The Corona pandemic is not only influencing the working environment and various business processes but has also accelerated the move towards digitalization and cloud computing once again. Companies are facing major changes in terms of digital transformation as part of the digital age, Industry 4.0, increasing mobility and globalization. The daily business cannot be imagined without intelligent technologies.
In this context, the topic of cloud or cloud computing takes on a central role. Changing locations, the increasing integration of external freelancers or agencies as well as mobile working make cloud computing even more attractive. Working in the cloud is now much more than just storing documents online. But how does working in the cloud work and what advantages does it bring? Which cloud trends will determine everyday working life in companies in the future as part of intelligent technologies? Working in the cloud is now much more than just storing documents online. But how does working in the cloud work and what advantages does it bring? Which cloud trends will determine daily work life in companies in the future as part of intelligent technologies?
What does cloud computing or mobile working in the cloud mean?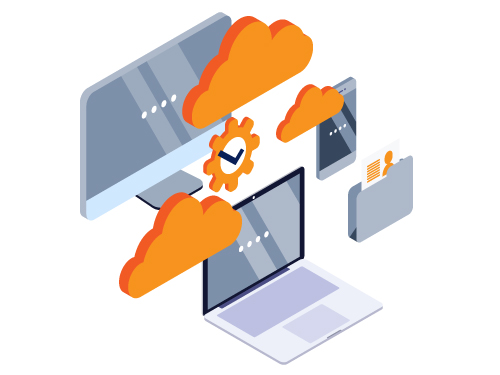 A cloud provides the technical infrastructure for flexible working via the Internet. Companies have the option of renting computer and storage capacities via an external cloud provider, to which several people then have central access. A cloud can be compared to a filing cabinet that used to be located in a single office room. This filing cabinet is now housed with an external provider. Anyone with a key to this cabinet can then access it from anywhere. Especially in times of the growing home office trend, the company's employees thus have access to the digital resources at the corresponding centralized cloud provider. Employees can access the resources from any location at any time via an Internet browser. Therefore, one of the goals of working in the cloud is for employees to collaborate with their colleagues in a centralized, virtual location, accessing shared resources without having to be directly on-site or in the office. This approach brings significant flexibility in terms of mobile working and gives employees the freedom to decide for themselves where they want to work from. Employees can share a centralized knowledge transfer through the cloud. At the same time, this ensures that all employees have the same level of knowledge as far as possible.
What are some examples of cloud computing?
Google Drive, Microsoft OneDrive or Amazon OneDrive are counted among the best-known cloud storage providers, where companies can rent cloud storage and access the storage resources. There are also cloud providers that provide not only storage capacity, but complete software applications. Companies can then access these software applications from anywhere in the world. These include, for example, the popular Microsoft Office suite with Word, Excel etc., which can then be used online. Entire database or customer relationship management (CRM) systems, as well as applications for employee administration, are also available from various cloud service providers for worldwide use. 
What advantages of working in the cloud bring for companies?
Reduction of personnel and acquisition costs: The biggest advantage for companies to work from a cloud is to save costs for personnel and hardware. Renting cloud services from an external provider is much cheaper for companies than having to procure and maintain hardware and software themselves.
Reduction in maintenance costs: Another advantage of using cloud services is that there are no costs for care, maintenance and security updates on your own server or hardware. The cloud service provider takes care of this. That way not only money is saved, but also time.
Security: Companies do not have to worry about security updates, because the external cloud provider administers and updates its cloud. Thus, companies can be sure that their data stored in the cloud is safe from third parties.
Customized bundles: Thanks to numerous bundles, companies can put together exactly the bundle that meets their needs. For example, they can choose according to the size of the storage space, the computing power, and the installed software packages.
Work across locations: Thanks to cloud computing, every location of the company can use the cloud simultaneously without any congestion or disconnections.
Project coordination: Cloud project management tools like Asana enable teams to organize themselves decentral and to coordinate projects via one platform.
Real-time operation: With the help of cloud applications, collaborations are possible in real time, so workflows can be created and automated.
Flexibility: Flexibility in time and location ensures happier employees, as they can work from the place where they feel most comfortable. This leads to greater productivity.
These are the cloud trends in 2022
There is a lot going on in terms of cloud or cloud computing trends. Current trends include multi-cloud management, container-based app development, green IT, analytics within the cloud, and cloud security. But what is behind these trends?
Trend towards multi-cloud
In a multi-cloud, companies use cloud services and platforms from several providers simultaneously. For the company itself, a multi-cloud therefore behaves like a single cloud. Multi-clouds can include both private and public clouds. Due to the different models of private cloud, public cloud and hybrid cloud, there is currently a trend to use the multi-cloud model in the future to have it all in one.
Container-based applications in the cloud
A container is a self-contained bundle of different applications that can be executed independently. This software bundle has all the applications that are required to run the entire application. These include the source code, system libraries and tools. Since container-based applications are more user-friendly, flexible, and portable, they are also playing an increasingly important role in cloud applications. Container-based cloud applications pave the way for digital production. 
Acting sustainably with Green IT
Sustainability also plays a major role in IT. By using cloud services, companies act more efficiently, more sustainably and save IT resources. Large cloud providers such as Amazon are planning to switch to renewable energies as well as regenerative energy sources in the next few years.
Cloud-based analytics
Companies are increasingly turning to analytic processes that take place in the cloud. Based on the analytical data from the cloud, they make important strategic decisions for the future that can be optimized and automated later. In addition to data warehouses, this also includes data lakes as solutions for collecting and evaluating huge amounts of data.
Cloud Security
Cloud services must guarantee companies secure access to their corporate data. The immense increase in ransomware attacks on companies in particular shows how important the issue of security is. To save costs for a security operations centre operated in-house, the trend is clearly moving in the direction of managed cloud security with appropriate external cloud providers. 
Conclusion
Working in the cloud has many advantages and already plays a major role for companies. Thanks to numerous cloud providers and solutions, companies have a wide range of choices to find the services they need to digitize their business processes. The emerging cloud trends also offer companies great potential to increase their focus on independent and mobile working and digital production.