We got to the bottom of our CEO Frank Niemann and wanted to know what his daily work routine is like and what he is particularly proud of. The result is a short interview that gives us an exciting look behind the scenes.
---
What does a typical working day look like?
"I tend to be a late bird and am usually not in the office before 9 am. Nevertheless, I am already available for my colleagues early. Before I go to work, I check my first emails and prepare myself for the day. When I arrive at the office, I start with my daily tasks, such as going through orders from the previous day and releasing invoices, before the first meetings are scheduled. The focus is usually on optimising processes and implementing planned innovations. I am often accompanied by dog Chewy, who likes to follow me wherever I go. Her working day is also full to the brim: Sleeping, playing and walks with colleagues. She also keeps the office in a good mood and gets her daily strokes."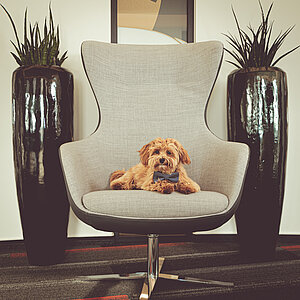 Why should you apply to Cybertrading?
"It is very important to me that the employees feel comfortable here. Be it in our cosy lounge with a game of billiards or at regular team events. In addition to a family atmosphere, employee development is also a top priority. Especially here in Saxony-Anhalt, we are proud to be able to offer our skilled workers professional opportunities for success through further education and training. Developing employees also means promoting health, so we try to support our colleagues with various measures. We strive to grow with the team and to continuously improve. I think all in all we offer new colleagues a great opportunity to develop personally as well as professionally in a very warm and collegial team."
Where is the journey heading?
"We are already noticing that we are reaching our capacity limits despite the new company building including a warehouse. Creating space for more growth will be the focus in the next few years. More space for new colleagues and new products, which we need to be able to further expand our market share. In terms of implementation, we want to break new ground. From clean desk concepts to branch offices in the region, we want to give our team the chance to develop freely. A first step in this direction will take place at the beginning of next year with the ground-breaking ceremony for a new warehouse, which will provide space for an expanding product portfolio. In the future, we also want to create a place for social gatherings in the outdoor area with a new barbecue area."
What are you proud of? What do you particularly appreciate about your work?
"As the founder of Cybertrading, I am proud of our company history and the development that has taken place in the years since our founding in 2007. In the last few years, we have grown together into one big family. From a small three-man company, we have grown into a business that offers many people a reliable and stable job. We all work continuously to pursue and advance the vision of Cybertrading. The long-standing cooperation and the trust that has developed in the team are particularly important to me and I am very grateful for that."