On Saturday, the 31.08.2019, the "Großer Preis des Mittelstandes" 2019 was awarded for the 25th time by the Oskar Patzelt Foundation in Dresden. Awards were presented to companies from Saxony, Saxony-Anhalt, Berlin/Brandenburg and Mecklenburg-Western Pomerania.
The aim of the award is to honour companies that are both economically successful and at the same time distinguish themselves through innovation and social and regional commitment. The "Großer Preis des Mittelstandes" is one of the most important business awards in Germany and focuses on German small and medium-sized businesses as an important pillar of the economy.
After the nomination by WEIT Führung GmbH, we had already reported that we were nominated for the region Saxony-Anhalt for the third time this year and successfully reached the 2nd jury level.
On 31 August 2019, the 25th award ceremony of the Grand Prix of Medium-Sized Businesses took place at the Hotel Maritim in Dresden. A total of 5,399 small and medium-sized enterprises from 16 German states were nominated for the 2019 competition year. Each federal state forms a so-called competition region, in which a maximum of three companies are awarded as prize winners and a maximum of five other companies as finalists.
After having been a finalist for the "Großer Preis des Mittelstandes 2018" last year, we are now pleased to announce that this year we have been chosen as the winner of the "Großer Preis des Mittelstandes 2019". It is a great honour for us to have been honoured by the 200 nominated medium-sized companies from Saxony-Anhalt as a prize winner and we would like to thank WEIT Führung GmbH for the nomination, the Oskar Patzelt Foundation for the organisation of the competition and the entire Cybertrading team for their daily commitment and great work. This honour reflects the success of the company, the outstanding performance of each individual employee and our united team effort. Only a strong team makes progress!
Let's Live IT !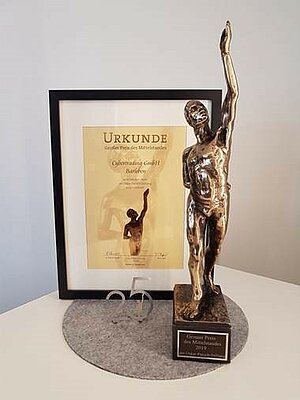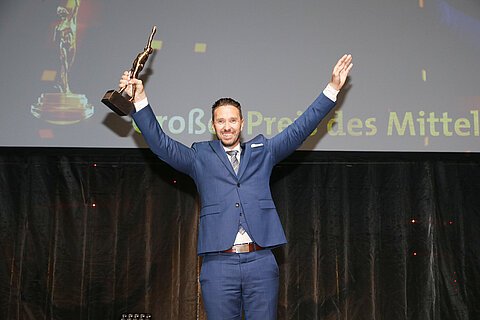 picture: Boris Löffert. source: Oskar-Patzelt-Stiftung.