The 15th year of Cybertrading GmbH - 2022 is coming to an end. We, the Cybertrading GmbH, would like to thank our employees, customers and business partners for a successful year. Now it is time to review the year and take a closer look at our highs, surprises and challenges.
The compulsory break is over - Finally back to life!
The company relay:
This year we were finally able to take part in the annual company relay Magdeburg again. Due to Covid, we didn't have the chance to prove our athletic skills for 2 years. So naturally we were very excited to participate in the relay this year and lived by the motto: "Being there is everything".
Girls' and Boys' Day:
This year we could be part of the Girls' and Boys' Day for the first time. Last year it was already planned to organise the Girls' and Boys' Day for interested students, but it was cancelled at short notice due to Covid. This year, however, we finally welcomed 2 students to our company. For one day, they actively supported our marketing team and were able to get to know all other areas of our company.
Shooting of our corporate movie:
"And action!" In summer, we opened our doors for the film crew of the Farb.film company. They accompanied us for a whole week during our daily tasks. We had the opportunity to present our company, our values and our employees. You can already look forward to the result!
Recruiting fairs:
The year of firsts continues! In 2022 we participated in several recruiting fairs for the first time. As our company is constantly growing, we are always looking for new reinforcements for our team. Therefore, this year we participated in the Company Contact Fair, the Job Fair and the hierbleiben Fair in Magdeburg. There we had the opportunity to present our company as exhibitors.
Redesign, optimisation, embellishment - We simply build with passion!
Optimisation of the logistics area:
Due to the constantly growing demand for our products, we are also focusing on optimising the logistics handling area. For this purpose, we have taken initial measures and installed another hall door. In addition, a new platform offers more storage possibilities.
Improvement of the outdoor area:
This years' goal was the improvement of our outdoor area. So that we can enjoy good weather even better in the future, we have specially made a seating area out of pallets and a gabion bench. The new flower beds, which are always kept green by our new sprinkler system, provide a pleasant view. The lighting installed for the trees is also an absolute eye-catcher as soon as dusk falls.
More space:
The biggest conversion measures come with the construction of the second warehouse. It started at the end of the summer. In the spring of next year, there should be enough parking spaces for all employees and sufficient storage facilities for our offered products.
Help where we can - Support, create awareness and act sustainably
Bee sanctuary:
We have decided to take active action against bee mortality. Due to that, we support the HarzRitter company with their Bienotopia project. We are now owners of a biosphere reserve in the bee sanctuary for 12 months.
I Plant a Tree:
As a partner of the I Plant A Tree project, we support reforestation in the southern Harz region. With our help, 105 new trees have already been planted this year. In this way, we would like to make our contribution to sustainable forest conversion in the entire Harz region.
Christmas in a shoebox:
We already started in 2021 to take part in the "Christmas in a Shoebox" campaign and launched a huge packing and shipping operation. This year, we are once again participating and facilitating the drop-off and shipping of the donation boxes at Cybertrading.
Following a long-standing tradition, we support a special project every year in December. This year, it is the "Wünschewagen Sachsen-Anhalt", to which we can happily hand over a large donation. The initiative of the ASB Germany makes it possible for people to have a special heart's desire during their last phase of life. We are very happy to support such a great project and thank all the volunteers for their selfless commitment.
Not without my team - our employee goals
Team growth:
We continue to grow and are delighted that we were able to gain a few more colleagues this year. By November, a total of 15 new faces had joined the Cyberfamily and have since strengthened our team. With such an increase, we have now almost cracked the 100 mark with 94 employees.
Anniversaries:
In addition to some colleagues celebrating 2, 5 or 10 years with the company, there was another special anniversary this year. On 04.12.2022, we celebrated 15 years of Cybertrading. This milestone would not have been possible without our loyal customers and reliable employees. We look forward to many more years with our loyal colleagues and hope to see many more new faces!
Cyber offspring:
This year was all about growth! We didn't just gain staff. Our colleagues and we are very happy about the abundance of new cyber babies. Together with our boss, 4 more colleagues were able to enjoy a new addition to the family. Congratulations to all new daddies and mommies of the Cyberfamily.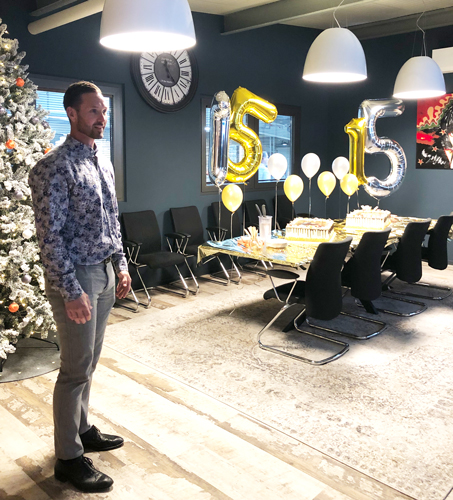 And in 2023?
A big innovation in 2023 is the optimisation of our online shop design. Also on the agenda for the upcoming year are further development of the outdoor facilities. These are to be completed with the completion of the barbecue area and the enlargement of the car park. In-house, we want to further expand our Clean Desk system as we hope to continue to grow our team. Due to the steady increase in staff, we are also planning to open a side office in Magdeburg. In addition to these exciting changes, next year we plan to hold our summer party on our own premises.
Be excited! We can't wait for the new year and are looking forward to all the challenges, surprises and highlights that 2023 has in store for us!